Were you looking for my pics and videos? Click here: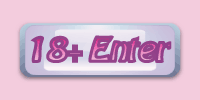 This section is dedicated to the selection and aquisition of womens' clothing for males, as well as tips on dressing.
The first thing to remember is that there is no wrong way to crossdress! If it feels good, do it : )
TABLE OF CONTENTS
Let's start with the basics. Women's sizes and men's sizes are measured on different scales, which can make finding correctly fitting clothing difficult to say the least.
Women's clothing comes in various different sizing styles. For example, Juniors sizes fit slim and sexy. They usually fit men well, as they are not shaped for large hips or breasts. However, they are also not cut to accomodate large shoulders or overall large dimensions. Misses sizes are made to fit breasts, butts, and hips. They aren't often as sexy as Juniors, but they are ideal for men who don't have a particularly slim build (including if you have wide shoulders or muscles!). Womens sizes are useful if you are going for an older (or business) look or have some extra padding.
Juniors sizes run 0,1,3,5,7,9, etc. All odd numbers except 0, so if you see an even size you're probably not in Juniors. You've got to be VERY small and VERY slim to fit in a size 0 or 1 . . . I don't think I know any men that can pull that off.
At 5'8", 135 lbs, I'm a size 5 or 7. (5 when most of my weight is muscle, 7 when I'm not keeping in shape as well) All women's clothing is somewhat hit or miss for sizing though, I have been known to squeeze into a 3 from time to time. Average guys will fit into a 9 or 11, but it might be tight in the shoulders and thighs. Any larger than that, and your body shape is probably too far from Juniors to work well. Stretch also makes a huge difference in juniors clothing. In items labeled small, medium, or large, I almost always go with a small even though this would generally equate to a size 0-3 . . . that's because juniors clothes without an exact size are usually VERY stretchy. And it helps that I like to wear my clothing a bit tight : )
Anyway, for most men if you're buying Juniors pick a size larger than you would expect. If you know a girl of your build and know what size she wears, or if you look at a piece of clothing and think it looks about right, grab the next larger size. Trust me. Most guys will need the extra room to fit their shoulders in. Also, if you have breast forms you will most definitely need more room than you would expect if you are shopping without them in. Remember, juniors clothing is not cut for massive breasts in spite of some of our fantasies! This does not apply to Misses and Womens clothing.
Misses sizes are even sizes and will fit anyone larger than slim to average build. Ok, for crossdressers, this means anyone who is not particularly slim. While they have a stereotype of being for older women, there are actually a lot of cute Misses clothes out there. The size range is the same for Misses and Juniors, so if you are a 9/11 Juniors, look for a size 10 Misses.
Womens sizes are even sizes that pick up where Misses leave off. They are sort of the equivalent to an L or XL in Mens. I don't have much experience with larger sizes, but hopefully you can get a good idea from the descriptions of the other sizes to make a start.
Shoes, socks, and pantyhose . . . my favorite forms of women's clothing : ) These items are not nearly as difficult as general clothing to pick out. Shoe sizes go by a simple rule: for the best fit, add one size to your men's size. If you wear a 9 men's, you need a 10 women's. If you have slender feet, you might get away with the same size in mens and womens. If you have wide feet, you will likely need to go up two sizes. Of course, that may make it difficult to find the shoes you want, but I'll cover that later. Socks and pantyhose are wonderfully simple. Sock sizes are based on your (women's) shoe size, just like men's socks are. And pantyhose have a nice little chart on the back telling you what size to pick for a certain height and weight. Pantyhose sizes vary by brand, but here's an example that you can apply to most brands to get an idea: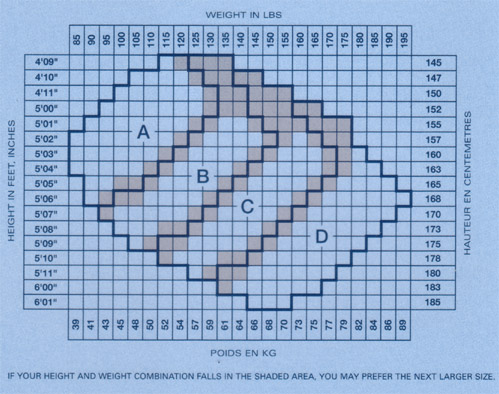 Bras and panties can be a challenge, but don't worry we'll get through it! In fact, the most difficult area of selecting bras and panties are the styles (which I cover in the style glossary below!) not the sizes. Panties are sized just like your basic clothing, no big deal here. They're also not hard to eyeball, and if you get a size a little too small it'll probably work fine. If you find panties sized as small, medium, and large . . . take a look at a size larger than you would buy in men's. A good working range would same as your men's size (if you're on the small end) up to a size and a half larger (if you're on the large end).
Ah, the ever mysterious bra . . . one of the easiest yet most often mis-sized articles of women's clothing. Start by measuring your chest just below the pectoral muscle (the one that your nipples are in the middle of). For most men this measurement should be taken not far below the nipple. This number (in inches) is your bra size. Round off the decimal, you won't find a bra in partial sizes because most are adjustable. And if you have an odd number, add one inch (most bras only come in even numbered band sizes, and the number represents the largest size the band will fit). As for cup size, almost every guy is a AA or maybe an A naturally. If you have a lot of tissue around your nipples (aka man-boobs, but I hate to use that term) you might be a B. That's it. If you have implants or breast forms, your cup size should be included in the model number (or your doctor should have told you in the case of implants!) If not, measure around your chest around the fullest part of your breast or breast form (without squishing it at all). Subtract the first (below the pec) measurement from this second number, and follow the chart below:
1-inch difference A Cup
2-inch difference B Cup
3-inch difference C Cup
4-inch difference D Cup
5-inch difference DD Cup (sometimes called E)
6-inch difference DDD Cup (sometimes called F)
7-inch difference DDDD Cup (can be same as F, or same as FF)
8-inch difference FF Cup
9-inch difference G Cup
10-inch difference H Cup
11-inch difference I Cup
12-inch difference J Cup

European band sizes are a little different, check out this chart:
| | | | | |
| --- | --- | --- | --- | --- |
| US | UK | France | Europe | Italy |
| 30 | 30 | 80 | 65 | 1 |
| 32 | 32 | 85 | 70 | 2 |
| 34 | 34 | 90 | 75 | 3 |
| 36 | 36 | 95 | 80 | 4 |
| 38 | 38 | 100 | 85 | 5 |
| 40 | 40 | 105 | 90 | 6 |
| 42 | 42 | 110 | 95 | 7 |
| 44 | 44 | 115 | 100 | 8 |
The other tricky part about picking out a bra is finding one that suits your breasts. Generally crossdressers will want to find something that covers as much of their (fake) breasts as possible. I've found 2 bras that do a decent job, and would love to hear of others. The first is sold by Silkies.com which is a mail-order pantyhose company. They carry a thin and versatile (and cheap!) full coverage bra in several colors that does a great job of holding everything in place. Downside is you have to order pantyhose from them to get it . . also, I still have to wear a high-cut shirt with this bra, and the straps are fairly wide and obvious. The Playtex 18-hour bra is also pretty amazing (you can get this one anywhere, from Walmart to department stores, to Amazon.com, etc). It's super full-coverage and very thick, which means it's unbeatable for holding your breasts in place. The only problem is that it looks like a maternity bra (ie not sexy), only seems to come in white, and is very noticable if your clothing doesn't cover it. C'est la vie. There are some crossdressing sites like GlamourBoutique.com that sell lace breastform bras that are full coverage but sexy, though I've never tried these out.
And speaking of breasts . . . since most men don't have any natural ones, but almost all of us wish we had some, breastforms are a wonderful invention. Ok, so they were actually invented for women who have had a masectomy (removal of the breast due to cancer), but don't worry, you're not stealing breastforms from desperate cancer patients - if anything, you are helping drive down the price by comoditizing the industry. Anyway, picking a breastform isn't easy, especially considering that they are still quite expensive, but there's no great mystery to it.
First, breatforms come in a variety of shapes. Round and oval shapes are generally good for filling in a bra (ie making existing breasts look larger), or simulating very small breasts (AA or A cup). They make a decent B cup, but at this size you might want to consider a new shape. Triangular forms give the breast a bit more of a natural shape, which starts to become important with B cups and above - breasts of this size can't completely resist the effects of gravity (assuming they're not made of silicone), and the triangular form mimics the effect of the breast tissue on the surrounding skin.
If looking natural is your top goal, or you want breasts larger than a B cup, I would definitely suggest you look at asymmetrical or tear-drop shaped forms. Similar to the triangular forms, a tear-drop form fills in more of the surrounding tissue, particularly under the arms. Most females have a lot more breast tissue in these "non-beast" areas than anyone realizes! One word of caution with these forms is that the less round the breast, the more careful you have to be in selecting a bra that appropriately covers the form.
| | | | |
| --- | --- | --- | --- |
| | | | |
| Round | Triangular | Teardrop | Asymmetrical |
Breastform sizes are a bit odd. They are numbered by increasing "size", however, the effect of a given numerical size will vary based on your naturaly chest dimensions, your body shape, and the shape of the breastform. The table below gives a general guideline to convert breastform size into cup size based on your chest measurement, but be aware that I have seen charts +/- a full cup size from this one (ie a 32" chest with a #6 form could be a C cup or a DD cup). My advice? Buy a form that you think is about what you want, attach it, measure yourself, and then go buy a bra.
| | | | | | | | | | | | | |
| --- | --- | --- | --- | --- | --- | --- | --- | --- | --- | --- | --- | --- |
| Cup | 32 | 34 | 36 | 38 | 40 | 42 | 44 | 46 | 48 | 50 | 52 | 54 |
| A | 3 | 4 | 5 | 6 | 7 | 8 | 9 | 10 | 11 | 12 | 13 | 14 |
| B | 4 | 5 | 6 | 7 | 8 | 9 | 10 | 11 | 12 | 13 | 14 | 15 |
| C | 5 | 6 | 7 | 8 | 9 | 10 | 11 | 12 | 13 | 14 | 15 | |
| D | 6 | 7 | 8 | 9 | 10 | 11 | 12 | 13 | 14 | 15 | | |
| DD | | 8 | 9 | 10 | 11 | 12 | 13 | 14 | 15 | | | |
For the record, average breast size is B cup. If you wear forms larger than this, you will attract attention to yourself. Sometimes that's a good thing, sometimes it's not.
One last item on breastforms . . . attachment. A decent bra and a tight shirt that covers you up well will work fine, but you may want some adhesive just in case. Make sure you pick an adhesive that is compatible with the form! There's nothing worse than dissolving a brand new set of breasts : ( Frankly I find adhesives to be a pain in the butt because they also have to be removed and cleaned up, they don't feel great when you take them off, etc. And if you plan on wearing a shirt that shows cleavage or otherwise does not hold your forms to your chest, I want to know how you created a realistic transition between the form and your skin - I have still not figured out how to do that!
Don't know the difference between a hipster and a low-rise panty? Or maybe you've forgotten what a mule is? This quick guide will point you in the right direction, and give you a little advice on how these styles affect your crossdressing decisions.
A B C D E F G H I J K L M N O P Q R S T U V W X Y Z
A-Line - A skirt or dress whose skirt is shaped like a triangle. When worn it typically has folds or pleats at the lower edge. This style does not fit tight, so it does not attract attention to wide hips, butts, or other . . . lower body parts.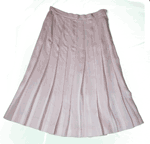 Babydoll - A babydoll is a short nightgown or negligee intended as nightwear. The garment is often trimmed with lace, ruffles, bows and ribbons, optionally with spaghetti straps. Sometimes it is made of sheer or translucent fabric like nylon or chiffon or silk. The gown is often sold as a set with matching panties. While many people find babydolls very sexy, I've never seen one that covers well enough for a crossdresser. This includes both coverage for prosthetic breasts as well as for the lower extremities.

Baby Doll T-Shirt - A tighter than normal t-shirt, usually with something cute printed on it. These shirts don't usually do much for a CD as they are slightly boy-ish in spite of their cute prints. On the other hand, they offer great coverage.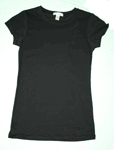 Back Wings – Back wings are the strips of fabric on a bra, which extend from the outer base of the cups and secure in the back. Important aspects of the back wings are; stretch vs. non-stretch (personal preference, but stretch also means it will be a bit forgiving in the fit), the measurement at the widest point (which is usually at the base of the cups and thus affects coverage if you have prosthetic breasts), measurement at the closure, and type of close including number of hooks and eyes (more hooks leads to more stability and support).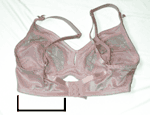 Balconette – Also known as a shelf bra, Balconettes are a more revealing version of a demi bra. Offering little to no coverage, balconettes create dramatic uplift and cleavage. Unfortunately this is not very useful if you have prosthetic breasts.


Ballet Heel - A fetish shoe with a super high heel and a downward pointed toe. This basically forces you to stand like a ballerina, if you can stand at all (which is not likely). They can be very erotic to the right people, but only if you don't plan on standing up.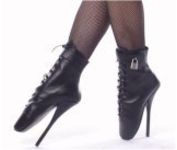 Barrette - A barrette is a clasp or pin for holding hair in place. Usually refers to small hair clips worn on the side of the head. Can be made of plastic or metal, some of which are in various shapes. These can create either a very young innocent look, or can be part of something more sophisticated depending on which type you buy.
Basque - In the Victorian fashion, a basque was a long, fitted jacket, or the skirts of such a jacket. Nowadays the term basque is used for a piece of erotic lingerie, with fetishist overtones. Basque may also refer to details reminiscent of lingerie such as frilly lace and cut out designs.


Bell Bottom Jeans – This style of jeans can have any number of fits in the waist and hips, but flair out wide at the ankles. While they come in and out of style, a pair that fits tight in the hips can create a distinctly feminine look for a CD.
Bikini - A moderate coverage panty offering more coverage than a thong, but not as much as a brief. Bikinis have waistbands which usually lay somewhere between the navel and hip (unless Low Rise) and have semi-hi-cut legs and a moderate coverage back panel. String bikinis offer considerably less coverage than an average bikini. Bikinis are a super comfortable medium coverage panty that won't show thru under heavier fabrics like denim or wool. Smaller bikinis may cause problems for crossdressing as there is not always a lot of room to tuck things in, but fuller bikinis offer a very sexy and functional panty.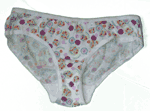 Blanket Sleeper - Type of pajama styled as a one-piece garment, designed for warmth. These are made from a variety of fabrics, with terrycloth, flannel, and synthetic fleece predominating. Feet may or may not be attached; if present, feet are often made of the same fabric as the rest of the sleeper, though occasionally plastic soles are attached. As these are typically sold to women, pastel colors and flowery prints are most common, though seasonal prints (such as snowflakes) are also popular. The front opening extends to the crotch and is typically closed with a zipper, though some close with snaps or buttons. Some styles include a "drop seat" or a hood. Yes, you can still find these in women's styles.


Blouse - Blouses are often made of cotton or silk cloth and may or may not include a collar and sleeves. They are generally more tailored than simple knit tops, and may contain "feminine" details such as ruffles or embroidered decorations. Blouses have buttons reversed from that of a men's shirts. That is, the buttons are normally on the wearer's left-hand and the buttonholes are on the right.
Bodice - A bodice is an article of clothing for women, covering the body from the neck to the waist. Bodices survive into modern times in the traditional folk dress of many European countries. The term bodice specifically refers to the upper portion of a one- or two-piece dress to distinguish it from the skirt and sleeves.


Bodystocking - A bodystocking is an article of lingerie, similar to a leotard or a catsuit. It usually has long legs (some have feet, some do not), but it may have long, short, or no sleeves. It is usually made from a sheer fabric similar to those used for stockings and tights, or from fishnet material. Take care what style you select, as the amount of coverage varies significantly. You may need to wear a bodystocking with a bra and panties to achieve the correct look.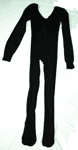 Bodysuit - A bodysuit is a leotard-like undergarment, sometimes used to provide support and shaping, sometimes simply as a top that cannot become untucked from one's trousers or skirt. Unlike a leotard, a bodysuit usually has snaps at the crotch. It is also called a snapsuit or a onesie. Unlike a bodystocking, the bodysuit does not have legs.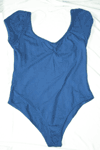 Boot Cut Jeans - Like flares, except it's less roomy on the ankles. Made to accommodate a person's boots without bunching. On a CD, these will generally make you look like a guy that hit his prime in the '80s. I don't recommend them even if they've got cute sequence on them.
Boy Cut Jeans– These jeans are wide and straight, very relaxed fit. Great if you don't want to show off your legs, you can still find cute pairs by looking for a low-rise waist – a decidedly feminine feature.
top glossary index

Boyshort – Boyshorts offer full coverage in a modern panty. Resembling shorts these panties are sometimes also called culottes or hot pants. Boyshorts are a perfect everyday alternative and offer comfortable coverage under skirts. Take a good look at any boyshorts you buy . . . many of them have a seam that runs down the very center of the crotch, making crossdressers prone to falling out of these panties. On the other hand, they can be a very sexy change of pace.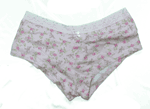 Bralette – A bralette is an unlined, soft cup bra, which resembles a crop top. Bralettes are usually teen bras or sleep bras because they do not offer a significant amount of support. They can be very useful for crossdressers though because they have great coverage. Sometimes you can find these with underwires or a bit of shape which will provide minimal support. You'll want good tape if you go this route though!


top glossary index

Brief – A traditional panty with full coverage in the rear. Often considered a boring panty, there are some sexy versions out there, and they are of course the most practical cut for crossdressers.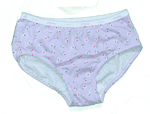 Bustier – A highly structured bra, which extends from bust to hip. Most bustiers have flexible boning throughout the body of the garment for additional shaping, and close in the back with a long row of hooks and eyes. Additional features may include removable or convertible straps, or garters. Smooth bustiers are perfect under special occasion wear as they provide both shaping and uplift. These can be great for crossdressing due to the support and shaping, but make sure you find one with good firm cups.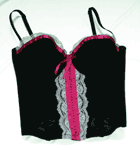 Camisole - A cami or camisole is a woman's undergarment which covers the top part of the body. It is sleeveless and tight fitting in contrast to a loose-fitting babydoll or chemise. The materials of choice are satin or silk. Some camisoles come with a built-in underwire bra which eliminates the need for an additional bra. This is basically a more fashionable term for a tank-top.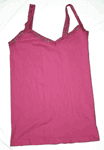 Capri - Capri pants (often just called capris) are a style of trousers. They are designed to end near the mid-calf or just below the calf. Very popular right now, especially when combined with long boots and or tights.
Center Gore – The center gore is the piece of fabric which connects the cups of a bra at the front center. Important aspects of the center gore include: stretch vs. non-stretch (the non-stretch offes significantly more support), and width measurement. Bras with low or plunge fronts have thinner center gores making them a good choice to pair with low cut tops, but low cut tops also come with the risk of revealing your breastforms.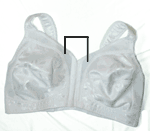 Chemise– A chemise is traditionally a white linen shirt worn to keep sweat and oils off your good fabric. It is now a more generic term for a loose-fitting casual shirt, frequently adorned with girly flair like ruffles and gathers. These are very versatile depending on what they are worn with, and can hide unwanted curves due to their loose fit.
Clog – A shoe with a closed toe, open heel, and platform (chunky) sole. There are a variety of clog styles out now that are quite fashonable. A clog is a variety of a mule that specifically has a platform heel and thick sole.
Combs – These are hair accessories that look like small combs. The can be plain or jeweled. The combs are brushed into the hair, then flipped around to make the hair stay.
Comfort Straps – Comfort Straps are wider than average straps and are usually padded or lined more evenly distributing the weight of the breast, increasing the comfort of the wearer. These can be nice to support heavy breastforms, but are usually unnecessary.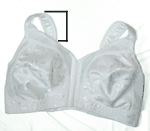 Contour Bra – A contour bra has shaped cups, which are always padded or lined and they have an underwire. Contour bras are similar to a molded bra, except molded bras are generally not as highly structured. Contour bras are a perfect choice for any CD because they provide a sculpted silhouette, with a significant amount of coverage and control.
Convertible – Describes any garment which has straps which detach and can be worn in a variety of ways including – criss-cross, halter, strapless or one shouldered. Garments with fully detachable straps are full convertible.
Cookies – Cookies are oval shaped, removable demi pads. These are generally used in bras which are already padded. If you only own one pair of breastforms (or none), these can help fill out your bust a little bit. They're even useful to give a little shape if you have to use a sock or other stuffing to create breasts.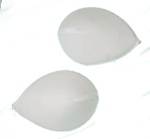 Corset – A corset is a highly structured, form fitted support garment that extends from the bust to the hip. Most corsets have lace up details, flexible boning throughout the body of the garment for additional shaping, and close in the back with a long row of hooks and eyes. Some corsets have a tie closure. Many include garter straps as well. Corsets can be designed to cover the breasts or fall just beneath them. As sexy as corsets are, I've yet to find a good way to wear one with breastforms.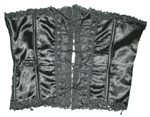 Corselet - A corselet is a bra, girdle and panty all in one sometimes with laces in front or back. This can be a good choice for providing a feminine figure, and usually much cheaper and more comfortable than a corset.
Crop Top - A casual upper garment, as a shirt or sweater, that falls at the waist or above. Either with or with out sleeves.
top glossary index

Culotte - A European version of a boyshort (panty).
Culottes - Culottes are also known as a split skirt or divided skirt. It has also been called a skort (a portmanteau for skirt and shorts). While some garments sold as culottes resemble short trousers, to truly be culottes they need to look like a skirt while providing the modesty of shorts. These can really help prevent embarrassments in public if you are uncomfortable crossing your legs or sitting like a woman, but do make the outfit look either very young or a bit 80's-ish.
Demi – A demi cup bra offers the perfect amount of 'barely there' coverage for petite to average figure women. These bras offer less coverage than a full cup and more than a balconette. Demi bras cover the nipple and approximately half to ¾ of the breast. While a demi (unlike a balconette) is sufficient to hold breastforms in somewhat (you'll still need some good tape though!), they do leave a lot of the breast uncovered.
Dickie - A blouse front worn under a suit jacket or low-necked garment; Has neither sleeves nor a torso region. If you need to cover up hair, etc under a low-necked shirt, this is the way to go. Unfortunately, it also lends a bit of a matronly appearance.
d'Orsay Pump– A pump with the sides cut out to reveal the arch of the foot. These can be very sexy, but you have to have a somewhat narrow foot to pull it off. Most CDs will not look quite right in these.
Empire Waist– Can be on either dresses or shirts, this is a waist on the garment that falls above the anatomical waist. The dress is cut to fit right below the breasts and then hang loose below this point. Popular in young girls wear, it can provide a very innocent but fashionable look when worn correctly.
See the Sundress picture for an example of an Empire Waist.
Espadrilles - Slip on shoes of Spanish origin, these sandals usually have cloth criss-crossed straps and rope or grass soles. Modern espadrilles frequently have platform soles. They can add a cute and playful aspect to many casual outfits.
Foam Lined – Compared to padded bras, foam lined bras have a thinner lining. This lining does not add size, but provides additional shaping as well as protection against nipple show through.
Full Cup – A full cup bras completely covers most of the breast, offering both more coverage and more support than a demi cup bra. This is the type of bra most crossdressers will be interested in.
Full Figure Bras – Full figure bras start around a size 38C and extends to a 52I (anyone know of larger?). Full figure bras offer comfort and support features designed specifically for voluptuous women. Many CDs will find full figure bras handy as they provide excellent coverage and support, in addition to being in a better size range for most genetic males. You will of course need at least C-sized breastforms to fill out a full figure bra, which believe it or not is a pretty large piece of silicone to be wearing around.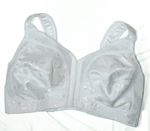 Gaff - Underwear designed specifically to look feminine but fit the male anatomy (ie for crossdressers and TVs). Generally they have a very thick front panel which is wider and longer than the equivalent womens' style. They are frequently made as thongs, as this is the most difficult style of underwear for a TV/CD to wear. While they are advertised as presenting a smoother surface and holding everything in place, I find that simply selecting a fuller cut style or wearing pantyhose gives better results. In the picture, the gaff is on the left, and a womens' thong is on the right.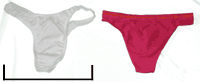 Garter - Garters are items of clothing worn around the thighs. They are normally just a few inches in width. They often contain small bells and/or ribbons. Traditionally garters were used to hold stockings in place before pantyhose were invented, they provide a burlesque sex appeal to an outfit (though typically they remain out of sight).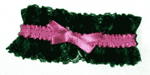 Garterbelt - Garterbelts are a replacement for garters, not meant to be worn with garters. Both articles perform the same function - keeping thigh-highs or stockings from falling down. The garterbelt does this by means of a "belt" often made of lace, from which hang four straps - two straps are clipped to each thigh-high, one in the front, and one in the back. Garterbelts can be found with or without an attached panty. Other forms of lingerie frequently include garter straps and are sometimes refered to as garterbelts. Modern thigh-highs almost invariable have a control top feature that eliminates the need for garters or a garterbelt. Nonetheless, garterbelts remain a popular sexy or fetish item.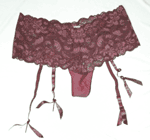 G-String - A minimal coverage panty with string sides and (small) back panel. Similar to a thong, some manufacturers use the terms interchangeably, but in general G-strings offer ultra minimal coverage. These tiny panties are virtually guaranteed to eliminate panty lines. On the other hand, crossdressers are virtually guaranteed to fall out of a G-string. I've yet to find a good way to wear them.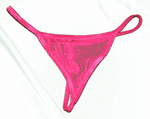 top glossary index

Hi Cut Brief - A moderate to full coverage panty with a very hi-cut leg. Some crossdressers find that hi-cut briefs in dense fabrics offer a bit of tummy shaping. If you're looking for full coverage and practicality, hi-cut briefs are sometimes more interesting than your typical brief.
top glossary index

Hipster – A mid coverage panty, which is a moderately low rise cross between a bikini and a brief. Hipsters are a modern and comfortable take on the classic brief and are less bulky than a boyshort. Hipsters are virtually invisible under mid-rise pants. These panties can be very fun and functional for crossdressers.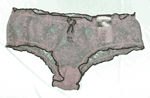 Inner Sling – Inner slings are a support feature. They are curved strips of fabric, which follow the natural curve of the bra similar to an underwire, except soft. Inner slings follow the curve of the bottom of the cup offering invisible additional coverage. They will not hold a breastform nearly as well as an underwire, so I don't recommend them unless you want the extra comfort.
Jumper - A jumper dress or simply jumper (British English: pinafore dress, pinafore, pinny), is a sleeveless, collarless dress intended to be worn over a blouse or sweater. It may or may not have straps, like those found on overalls. There is sometimes confusion over the name, as in British English, a jumper is a woollen sweater. Jumpers are the traditional garment of young (Catholic) school girls and thus have particular appeal for emulating that innocent look.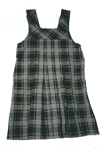 Kitten Heel - A kitten heel is a small (narrow and less than 1.5" high) heel that is placed slightly in from the back of the shoe. This gives the shoe a delicate, feminine look. It also makes it harder to walk in! (don't worry too much, it's a low heel, but it is a bit less stable than a flat sole) The heel is popular on pumps and lately has been introduced to flip-flops and similar sandals.
Leggings - Leggings are any of several sorts of fitted clothing to cover the legs. Leggings made from a nylon-lycra blend (usually 90% nylon, 10% lycra) are traditionally worn for exercise. Nylon lycra leggings are often referred to as bicycle or running tights, and are shinier in appearance than those made from cotton. Many have racing stripes or reflective patterns to further distinguish them as athletic wear and provide extra safety. Leggings made from cotton-lycra, or a cotton-polyester-lycra combination, are more typically worn for fashion. Leggings are typically ankle-length; they are occasionally stirrupped, or less commonly, footed. Since socks are normally worn over the top of leggings, rather than underneath, stirrups prevent the leggings from becoming untucked from the sock. Leggings typically differ from tights or pantyhose by their slightly looser fit.
Leg Warmers – Leg warmers are traditional clothing worn by dancers to keep their lower legs warm when wearing thin tights. They are generally a tube of cotton or wool that fit from the ankles or heel up to the knee. Popular in the 80's as a fashion statement, they are now coming back in style.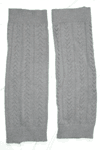 top glossary index

Low Rise - A panty or pant with a rise of 9 inches or less. The rise is the measurement between the waistband and the first horizontal seam. Low rise clothing with around 7-9 inches are still functional for crossdressers. Any shorter than that and you are likely to run into problems. See the hipster picture for an example
Mary Jane - This style describes any shoe designed after old girls shoes, generally with a single strap across the top of the foot and a rounded toe. Now mary janes can be found in any imaginable shape and style. Most remain relatively easy to walk in and give your outfit a decidedly cute "little girl" look.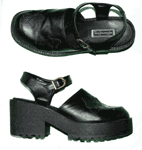 Merry Widow - A merry widow is a short, strapless corset with half-cups for the breasts and long garters. To this day, merry widow is the generic term for a corselette bra in the United States.
Minimizer – A minimizer bra reduces the appearance of the bust by up to one cup size. I don't see any reason for a CD to want one of these, and they tend to deform prosthetic breasts a bit unnaturally.
Molded – Molded bras have cups which are machine molded to fit the breasts. Molded bras are generally unlined and may be either soft cup or underwire. I think they are quite comfortable, though frequently they do not offer as much support as other bras.
Mule - A mule is a shoe with an open heel and closed toe. This can include anything from keds with the heel cut off to pointed-toe-high-heel dress shoes. Clogs are a type of mule.
Naughty & Nice - A Naughty & Nice is a matching 3 piece ensemble consisting of undergarments, babydoll nightgown and peignoir made of diaphanous chiffon with shoulder puffs, ruffles, bows, lace, ribbons, etc. The peignoir may or may not have shoulder puffs.
Negligee - The negligee is intended for wear at night and in the bedroom. It is a form of a nightgown, but usually with semi-transparent or very sheer fabric.
Nightgown - A Nightgown (also called a nightdress) is a loosely hanging item of nightwear nowadays solely for women. Its length may vary from hip-length (babydoll) to floor-length (peignoir) but is typically knee-length. A nightgown is manufactured of cotton, silk, satin, or nylon. It may be decorated with lace appliqués or embroidery at cups and hem. Optionally, panties (UK - knickers) are worn under the nightgown (nightdress). A short nightgown is often called nightie.
Padded – Padded bras have some type of padding lining the cups. Graduated padding is thicker at the base of the cups and creates a natural looking silhouette as well as the appearance of increased cleavage. The extra shaping of a padded bra can be a huge benefit for a CD, but a lot of people don't think they are as sexy. And you of course won't get to show off the great nipples on your breastforms.
Peasant Shirt– A peasant shirt is chemise in a medieval peasant style, usually with ruffles or gathers below the breasts, near the shoulders, or at the ends of the arms. Peasant shirts provide a cute and fanciful look while still having a loose comfortable fit.
Peignoir - A peignoir is a long nightgown for women usually sheer and made of chiffon. Peignoirs are usually sold with matching panties.
Petticoat - A petticoat or underskirt is an article of clothing for women; specifically an undergarment to be worn under a skirt, dress or saree. The petticoat is a separate garment hanging from the waist. Lately the full, tiered petticoat has made a small come-back in the alternative subcultures, especially the gothic subculture. A petticoat can be a sheer silk garment providing additional opacity to a skirt, or can be one or more layers of stiffened fabric designed to poof out a skirt or dress.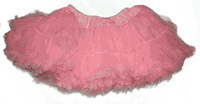 Plunge – Plunge bras create the appearance of increased cleavage because of their deep (plunging) front silhouette, angled cups and thin center gore. Plunge bras differ from push-up bras in that they are not generally as heavily padded. The angled cups and thin center gore, however, detract from the support and coverage which are frequently a concern for crossdressers.
Push Up – Push up bras create the appearance of increased cleavage using angled cups (which generally have underwires), a variety of types of padding including graduated and cookies, and demi cups. Again, push ups do not have quite the support and are lack the coverage of other bras.
Racerback – A back silhouette, which curves in between the shoulder blades.It is a style of bra or shirt with criss-crossed back straps. Racerbacks provide extra support for the breasts and can be helpful for holding prosthetics in place. Most convertible bras can be worn racerback, but a true racerback bra is a must-have to pair with racerback tanks.
Rigid Straps – Non-stretch straps which are generally adjustable. Rigid straps offer more support than stretch straps. Some bras have straps which are rigid in the front and stretch adjustable in the back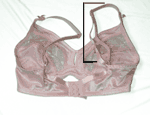 Scrunchie– A scrunchie is an elasticized ring of fabric used to hold hair in place. Must like a hair tie, but with excess fabric around the edges.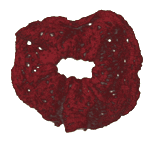 Seamless – Seamless bras and panties are perfect for wearing under clingy knits, and lightweight jerseys since they are virtually invisible under clothing.
Slingback - A shoe with a strap that runs around the back of the heel but is otherwise has an open heel. Slingbacks can be open toe or closed toe and come in a variety of styles.
The MaryJane picture above is also a Slingback.
Slip – A slip is a woman's undergarment worn beneath a dress or skirt to help it hang smoothly and to prevent chafing of the skin from coarse fabrics such as wool. Slips are also worn for warmth, and to protect fine fabrics from perspiration. A full slip hangs from the shoulders, usually by means of narrow straps, and extends from the breast to the fashionable skirt length. A half slip hangs from the waist, and may also be called a petticoat. Slips are also worn for modesty under translucent outer garments. Slips are usually made of a smooth and slippery fabric such as silk, satin, polyester or nylon and may be decorated with lace at the edges. They are typically worn over more intimate undergarments. A half slip may be worn with a matching camisole as an alternative to a full slip.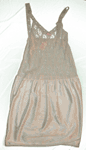 Soft Cup – Soft cup bras do not have underwires, but may be padded or lined.
Spaghetti Strap – A spaghetti strap is a very thin piece of fabric that goes over the shoulder to hold a garment in place. Generally smaller than ¼", spaghetti straps are common on modern dresses, bras, and are typical for camisoles.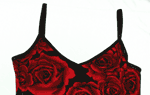 Sports Bra – Sports bras are specifically designed to offer the appropriate amount of support during moderate to intense physical activity. While they can be very convenient for holding prosthetic breasts in place, they don't look very good under most clothing.
Stiletto - A shoe with a high and narrow heel. Stilettos also come in a variety of styles and are sometimes called spike heels.
top glossary index

String Bikini – A bikini with thin string sides. This traditional panty offers comfortable, minimal to moderate coverage. String bikinis that are seamless, or constructed of smooth fabrics like microfiber and mesh virtually disappear under medium to heavy fabrics, and don't carry the functional problems of a thong for crossdressers.
Sundress – A sundress is a knee-length or shorter dress, usually of light fabric. They commonly have an empire waist, or else are straight-cut. Jumpers could be considered a type of sundress, though they are normally of heavier fabrics. Sundresses provide an innocent and cheery look.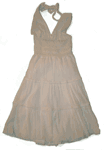 Sweater Bra – A bra with padded contoured cups designed to add a bit of size and shape under bulky shirts, particularly sweaters.
Tanga – A moderate to minimal coverage European panty silhouette that has a back panel that is wider than a thong but narrower than a bikini. Tangas are a comfortable way to transition from a bikini to a thong. If you tuck your penis towards your backside you may have to be careful with these. Otherwise, they are quite fun.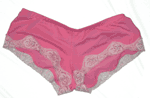 Teddy - A teddy is a form of bodysuit-like lingerie, often worn in the boudoir. Unlike a bodysuit, it is typically looser and sheerer, and may be designed to slip off from the shoulders, rather than to open at the crotch. The teddy is normally worn for the seductive look, rather than practical reasons.
top glossary index

Thong - A minimal coverage panty with a triangle shaped front panel, thin side panels and a narrow back panel, which may be y-shaped, or t shaped. I doubt many crossdressers will find thongs useful for anything other than looking at.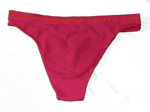 top glossary index

Thongboy - A moderate coverage panty, which combines the comfort of a boyshort with a thong back panel. Take care with these especially if you tuck towards your backside as it is quite easy to fall out.
Tights – Tights are like pantyhose, but are generally of thicker material. They still contain lycra, but have more cotton and or wool in them. Tights are great for covering up a bit of body hair. The picture on the left is a pair of tights, the picture on the right is a pair of pantyhose.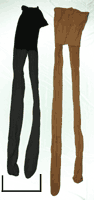 Triangle – A triangle bra has triangle shaped cups, which offer the perfect amount of coverage/support for petite figures. Triangle bras may be padded or lined but generally do not have underwires, and most have thin straps, center gore and back wings. I would only recomend this style if you have rather small breastforms or are stuffing.
T-Shirt Bra – Designed to appear invisible under even the thinnest fabrics, t-shirt bras are seamless, generally made of microfiber with contour cups. A great t-shirt bra can double as a sweater bra during the colder months.
Tube Top – A tube top is literally what it sounds like, a shirt in the shape of a tube. With no shoulders or sleeves, it presents a very sexy look, however it is rather impractical with breastforms as it depends on the breasts to stay up. Tube tops also frequently reveal a considerable amount of breast and tummy.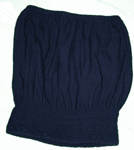 Underwire – A thin, flexible wire, which offers added support to the cups of bras, bustier and shapewear. Modern bras are constructed with comfortable underwires, which don't poke. Older underwire bras can be quite uncomfortable, so watch what you buy. No worries if you're buying new bras though.